Jewelry Made From Ashes
Regular price
$169.00 USD
Regular price
$169.00 USD
Sale price
$169.00 USD
Unit price
per
Sale
Sold out
Share
Cherish your memories of a beloved person or adored pet with our beautiful Champagne glass teardrop cremation pendant. Our highly skilled artisan, Ryan Higgins, carefully handcrafts memorial teardrop necklaces with a small portion of your loved one's ashes infused into the glass. Each glass cremation pendant is unique and is a timeless tribute to your cherished memories.

For an elegant touch, you can choose between a thin film of precious 22k gold or .999 silver, which beautifully reflects light, and captures the essence of your loved one's spirit within the pendant.
Choose from two sizes: the regular size, approximately 1.6" x .6", or the petite size, about 1.2" x .4". Both options feature a 3-4mm bail hole, allowing easy attachment to your preferred chain. We offer carefully selected chain options to enhance your pendant as part of a convenient package. Alternatively, you can explore our entire collection of high-quality chain necklaces on our website to find the perfect complement to your pendant.
To begin creating your memorial glass jewelry, we kindly request a small amount of ashes, which can be shipped to us using the collection packet we provide after placing the order. Once we receive your return, Ryan will begin crafting your pendant, ensuring completion within 10 business days or less.
Honor your loved one's memory for eternity with our ash-infused cremation jewelry. Order today and let the spirit of your beloved shine on. If you need any assistance or have questions, don't hesitate to contact us. We are here to support you on this meaningful journey.
View full details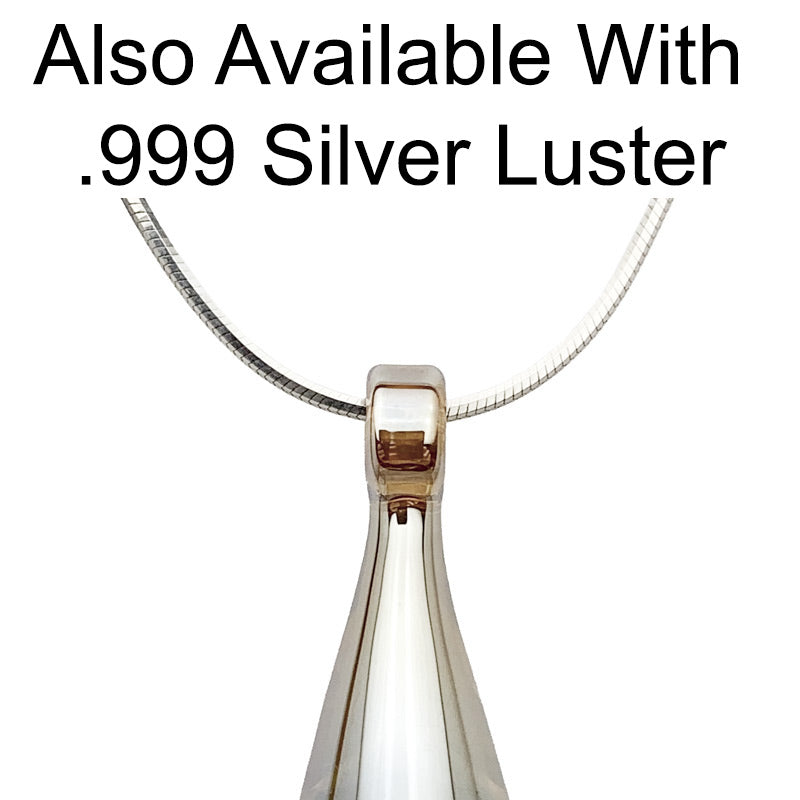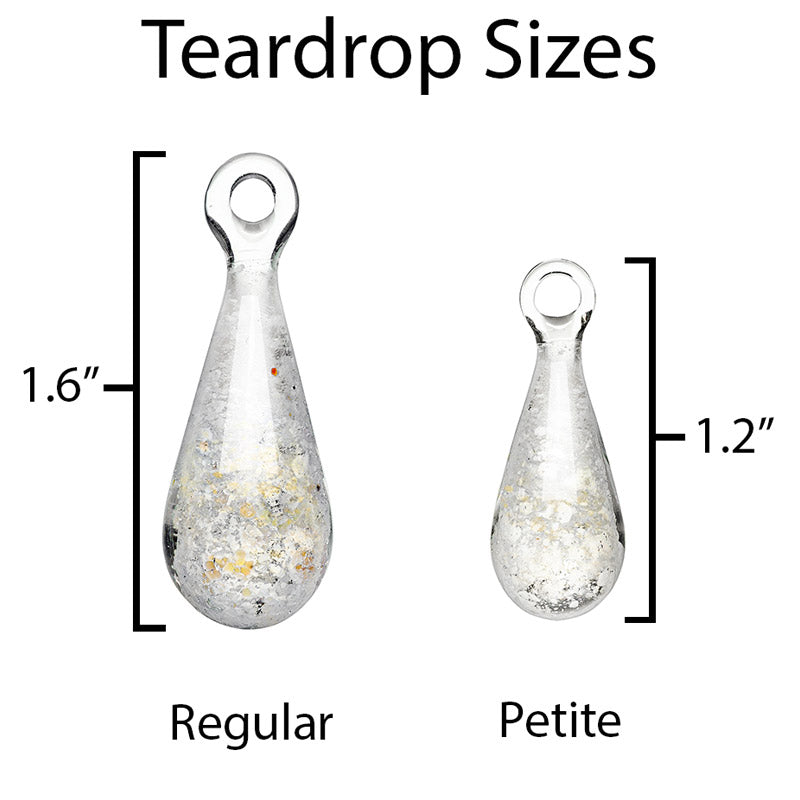 Stunning
Beautiful piece and very special. I will always have my precious pet Penny close to my heart 💜
Ryan is truly an artist.
Thank you so much.
Thoughtful gift, incredible quality, friendly communications.
Ryan's pendants are all so beautiful, it's hard to pick just one color, but we settled on the champagne color. (It was so beautiful I had Ryan make us another pendant in the black opal color, also very stunning!) It catches and reflects light in a way that almost makes it glow. And yes, it looks almost exactly like the photo (ashes are in different positions, obviously, but the coloring in the photo is what you get in real life.) From the time of order, the communication was excellent, and knowing what each step of the process was also gave us peace of mind that everything was being treated with care. The pendant is very sturdy and well-made. It is rare to get good communication from companies, but Ryan made sure to follow up, and that shows he knows how important these pendants are to people. This pendant would make a wonderful gift that will bring joy and hopefully a little serenity to help cope with a loss.
The pendants I ordered were absolutely beautiful. We were sooo happy when we got them- they turned out exactly how I hoped. Ryan made the process simple and easy and treats each order with love and respect. I am truly thankful for the beauty and comfort that he has created- I feel like my mom is back with me wherever I go. Thank you Ryan I hope you know how much your talent true helps heal people.
Ryan was wonderful to work with. He handles each order with kindness and compassion. My mother and I love our pendants with my grandmother's ashes. Thank you so much Ryan!