Jewelry Made From Ashes
Regular price
$134.00 USD
Regular price
$134.00 USD
Sale price
$134.00 USD
Unit price
per
Sale
Sold out
Share
Remember and honor your beloved person or pet with our stunning Halo Ashes Pendants. These beautiful pieces of glass cremation jewelry are personalized with a small portion of infused ashes, creating a heartfelt tribute to the memory of your loved one.
Available in eight vibrant colors, you can choose the perfect hue to suit your taste and capture the essence of your loved one's spirit. We offer three sizes:
The small size, approximately 0.75" in diameter

The medium size, about 1.25" in diameter

The large size, about 1.75" in diameter
They can be worn with or without a jump ring, providing flexibility in displaying them. You can also explore our website for high-quality chain necklaces to suspend your halo pendant from.
To begin creating your memorial glass jewelry, we kindly request a small amount of ashes, which can be shipped to us using the collection packet we provide after placing the order. Once we receive your return, Ryan Higgins will begin crafting your pendant, ensuring completion within 10 business days or less.
Honor your loved one's memory for eternity with our jewelry made from ashes. Order today and let the spirit of your beloved shine on. If you need any assistance or have questions, don't hesitate to contact us. We are here to support you in choosing your meaningful keepsake.
View full details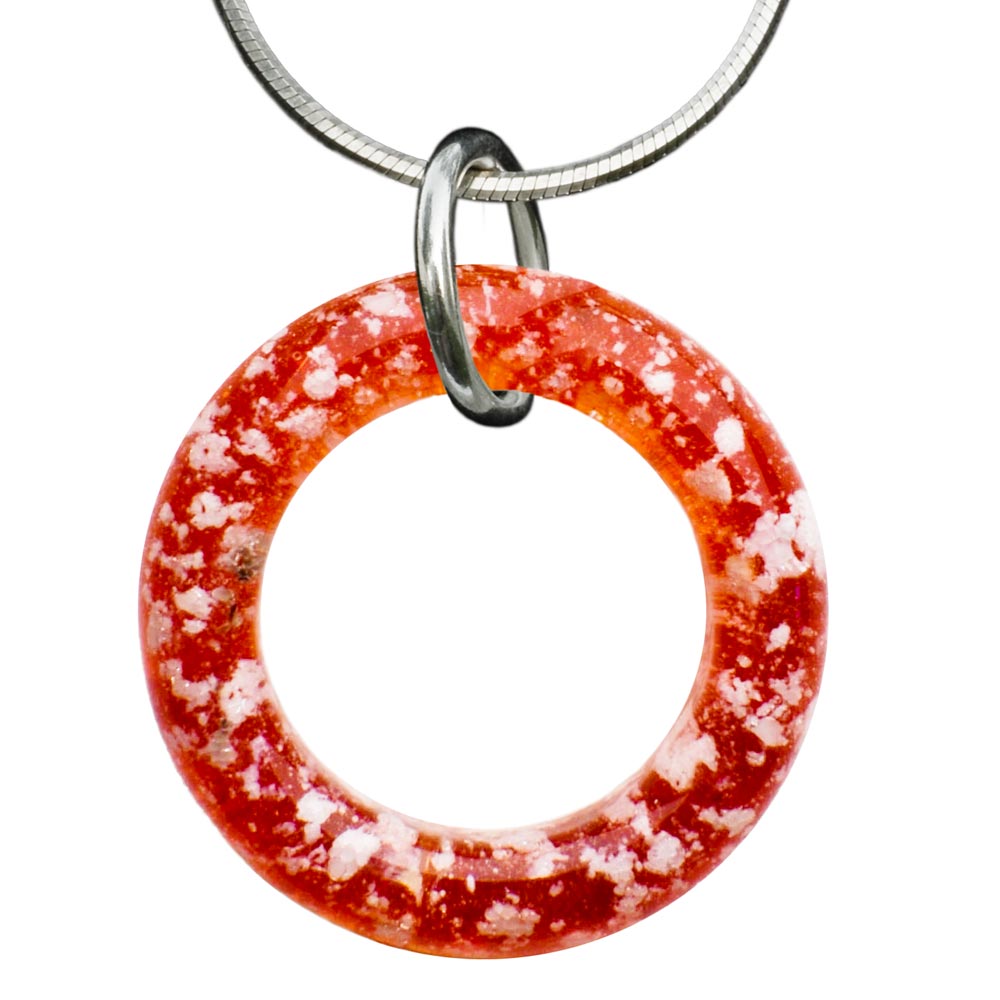 Amazing
Ryan was so helpful and compassionate with this awful time …I would recommend his work to anyone…I have had so many compliments on my necklace …she feels like she's with me all the time and it gives me a lot of comfort
Beautiful and Precious
I now have three of these and not only are they gorgeous, but I can keep my loved ones close to me long after they are gone. Ryan's work is so beautiful and I'm always surprised when it comes back so quickly. It's great to see the subtle changes in his designs over the years. I always get compliments on my pendants when I wear them. When I tell people what they are, they find the pieces even more endearing.
Ruby Halo
I stumbled across Daybreaks website looking for a special way to honor my brother. I wanted to gift his wife with something personal and unique and I fell in love with his pieces. I chose the Ruby halo pendant for the significance of the circle, no beginning or ending and the color for her love of red roses. When the pendant came, it literally took my breath away. I sat with tears streaking my cheeks and in my heart I felt my brothers love for his sweet wife. I sent it to her and she had the same reaction I did.
Ryan, you are a truly gifted artist. You don't make jewelery, you use memories from our hearts to create a beautiful work that is an honor to wear. To say thank you seems almost insignificant but from the bottom of my heart, thank you for the reverence in which you walked me through this process and the incredible talent you have used in such a beautiful way.
You are a blessing.